SMARTAVTWEAKS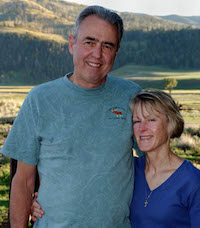 You have reached the homepage of Rosemarie and Steve Smallcombe. It is called SMARTAVTWEAKS as Steve once had a home business selling SMART software and hardware to help people calibrate or "tweak" their video projectors, hence the name smartavtweaks. Steve suspended sales of the SMART products in 2005 when Steve's other commitments left insufficient time to properly support the SMART product. Steve has kept the smartavtweaks domain name active as many people come to the site everyday while researching how to understand and optimize their video projectors. The original smartavtweaks homepage that deals with tweaking video projectors is here.
Chances are pretty good that you have arrived at this website because you are interested in improving the performance, or collimating, your Newtonian telescope for astronomical observations. Steve developed the Rear View Barlowed Laser technique based on the work of Nils Olof Carlin, and the page describing this technique has been the most visited page on the site for many years. For this and other ideas about tweaking your telescope click here.
Rosemarie and Steve are now retired and living in Jerseydale, a small community in the mountains above Mariposa California, just a few miles from Yosemite National Park. Over the last few years we have been owner-builders of a very energy efficient "green" house and the technologies involved in the house are described here.
Tesla Model S
We now have a new member of the family an 85 kWh Tesla Model S – a pure battery powered Electric Vehicle that has an EPA certified range of 265 miles. The Model S is a dream to drive – handles and accelerates like a high-end sports car, rides like a plush luxury car, has room for 5 adults (and 2 kids with the optional 3rd row seating) the cargo capacity of a SUV, and is greener than a Prius. And it looks kind of cool too. We now have what is called the Tesla grin. Here is a report of our first road trip, 486 miles, Mariposa to Fresno to Pollock Pines and back in one day.
Local Organizations
We are also very active in the local Mariposa Democratic Club and a local Environmental Group, Mariposans for the Environment and Responsible Government. Steve gave a presentation on Climate Change at a recent Democratic Meeting that is available here, and is a Climate Reality Project certified presenter,available for climate change presentations in the central and foothill/mountain regions of California.
Rosemarie is also a Master Gardener.
Steve's email is shs@sti.net
Rosemarie's email is rms@sti.net
Thanks for visiting.